I pantaloni fantasia sono un capo d'abbigliamento super amato nella stagione primaverile ed in quella estiva. Si tratta di un tipo di pantaloni che stanno bene a tutte, l'importante è abbinarli nel modo giusto. Il modello fantasia dona un tocco glamour al guardaroba e mette immediatamente di buon umore. Ci riporta alla mente look anni '70 o alla Saint Tropez e ci fa sentire "alla moda".
Sicuramente con i pantaloni fantasia non si passa inosservate e quindi, se si tratta di una motivo molto vistoso magari è meglio non usarli in occasioni troppo formali o in contesti lavorativi d'ufficio. Spesso con i pantaloni fantasia è amore a prima vista. In realtà per valorizzare il proprio fisico è importante scegliere la fantasia giusta. Solitamente, le fantasie grandi e righe orizzontali tendono ad allargare (e ingrassare), quindi sono sconsigliate a chi ha gambe robuste. Ma come si abbinano i pantaloni fantasia? Scopriamolo insieme.
Pantaloni fantasia a fiori come abbinarli
Se la fantasia scelta è quella a fiori, ma i colori sono tenui e il tessuto è seta o viscosa, i pantaloni possono essere benissimo abbinati a una favolosa camicetta bianca e una borsa stile "cartella" e tacchi alti. Questo look è perfetto per andare in ufficio, ma anche per un aperitivo con le amiche. Per un look più casual, perfetto per il tempo libero, i pantaloni fantasia a fiori si abbinano bene a una t-shirt basic tinta unita e alle sneaker tinta unita e ad una shopper bag. Attenzione alla lunghezza dei pantaloni che non devono finire sotto le scarpe.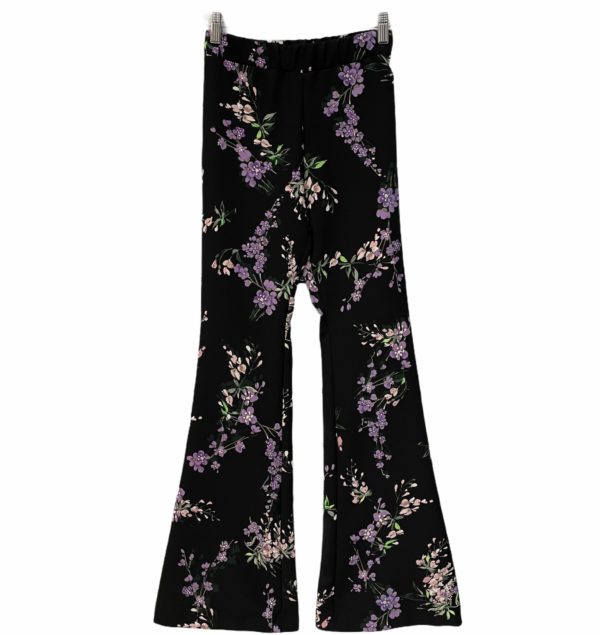 Il segreto per abbinare i pantaloni fantasia è di scegliere sempre capi a tinta unita (t-shirt o top o camicia a seconda dell'occasione). L'ideale è che il colore sia presente nello stesso stile dei pantaloni che intendete indossare. QUI potete trovare diversi modelli che potrebbero fare al caso vostro.
Pantaloni fantasia mix and match
Le appassionate di moda non amano gli abbinamenti banali e classici e preferiscono accostamenti esuberanti e intraprendenti come il "mix and match". Si possono abbinare i pantaloni fantasia con capi della stessa fantasia ma di diversa scala, come ad esempio le maxi righe con le righe sottili, i maxi pois con o micro pois e così via. Il risultato è elegante e particolare: attenzione però all'accostamento cromatico (le due stampe abbinate anche se della stessa fantasia devono presentare un colore in comune). Un altro abbinamento ardito è l'abbinamento pantaloni fantasia con un capo di una fantasia completamente diversa, come ad esempio righe e fantasia floreale. L'accostamento è chic e di classe.